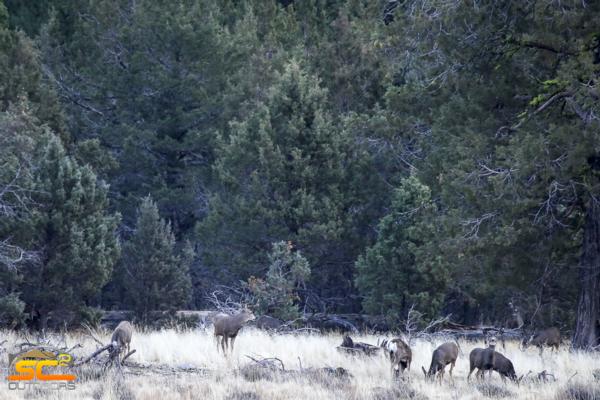 "The Garden" didn't disappoint!!! It took Dad 13 years to draw and it has been 12 years since we spent any significant time in "The Garden" and I'll tell you what, "The Garden" must be like a fine wine because it has gotten so much better with time. It is an absolute fabulous hunt. It did not take us long to ease back in the saddle at "The Garden", the number of deer and the number of bucks we saw on every day of the hunt was amazing. Everyone has their own opinion about "The Garden", mine is that it simply has the right combination of genetics, remoteness, ruggedness and exclusivity to produce a "Giant" mule deer buck.
Everything was right and some tremendous bucks were taken in the unit. We had passed so many bucks over the course of the hunt, some were no brainers, some were just a pleasure to see, others were a little tougher and required a little discussion, but we had yet to have that automatic shooter appear. Until our first and only encounter with a "Garden Giant" came on the final day of the season around 11:00 a.m.
We had just made our way around a group of about 18 does with 3 immature bucks, when down in a thicket stood this massive mule deer, we could only see his right hind quarter, his muzzle and his left eye, ear and base of his left antler but seeing that base at 136 yards was all it took to know he was without a doubt a shooter. We tried to maneuver into position for a clear shot as he stood frozen in time. We just could not get a clear shot, so we held our position, we would need him to move, but when he moved it was as if he just kept anything and everything in between us and then he was gone. We tracked him through the thicket as his massive body left an indelible hoof print in the wet red high desert soil.
We caught up to him about a 1/4 mile later, the jig was up and he knew we were there long before we spotted him, he was in a small opening watching us, look for him. The mental video seems to be on continual repeat as he rolled and turned his massive rack in his retreat further into the thicket behind him. He never ran, he simply picked his spots as he vanished, again never giving us a shot. Only another hunter can relate to the range of emotions that followed, we were disappointed we didn't get a shot but we were also excited and awestruck at the sight of such a buck.
Around 3:00 p.m. we located this nice four point and after a brief discussion, Dad was able to make a great shot at 109 yards. As we gathered around to take a few pictures, we reflected on the hunt, the experience and our time together in "The Garden" and we loved every minute of it.
Posted in: California Deer Hunting, California Deer Hunting