SC2 Outdoors - Northern California Guided Fishing Trips
Welcome to SC2 Outdoors "The Fishing Division", it is our goal to to exceed the expectations of our fishing clientele, with every trip.
Personalization and Commitment to your total satisfaction, we are dedicated to managing the things we can control on the water, so you can fully enjoy your time fishing. Your safety is first and foremost, we want you to have a great time while you are aboard our boat and we will do everything possible to insure that it safe and comfortable. Our mission and goal is to provide you with a high quality personalized guided fishing trip, for 1 to 4 people of any age or level of experience.
When you book with SC2 Outdoors, our boat is exclusive to you and your group, we are not "CHARTER FISHING", we are a personalized Guide Service. We never mix groups, we do not want to mix our boat with different groups or personalities, we want to dedicate our time to fishing and guiding you and those you have chosen to accompany you.
We have the flexibility to schedule your fishing trip around your schedule, weekdays or weekends, mornings or evenings, choose from a full or half day trip. We can accommodate a group of any size through our network of experienced guides. Whether you are new to fishing or an experienced angler, we'd love to have the opportunity to put you on the fish and show you what fishing with SC2 Outdoors is all about.
Book your next trip with us aboard our 2014 Fastwater 24' by Rogue Jet Boatworks, and let's spend some time on the water together.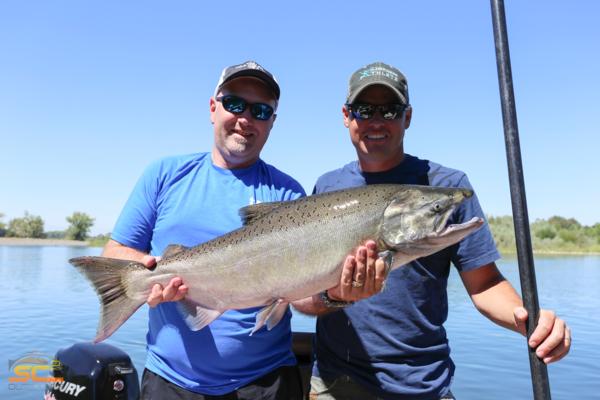 Mark W - King Salmon Sacramento River
King Salmon Fishing
From mid July to mid December the fall-run Chinook salmon (Oncorhynchus tshawytscha) is the undisputed King in the Sacramento River Basin. Whether you are back bouncing roe, backing down a plug or boondoggling, it's hard to beat the adrenaline rush you get when the "King" accepts your offering. It's simply awesome to have a 20-40 pound mass of muscle on the end of your line. Pure Adrenaline, Pure Power!!!
We are currently booking the 2022 Sacramento River Salmon Season, give us a call we'd be happy to answer any questions you may have. We hope you'll be fishing Kings with Shelley and I on the Sacramento River.
More Information on King Salmon Fishing in California with SC2 Outdoors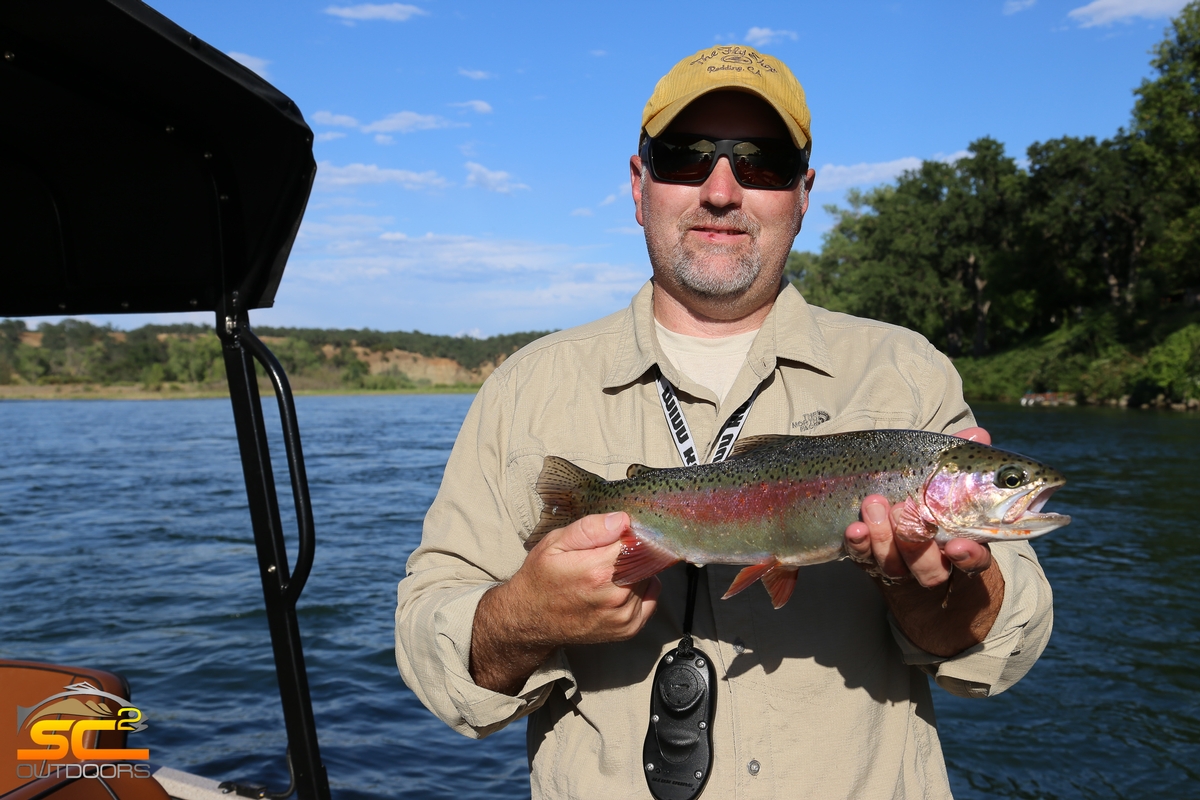 Trout Fishing (Rainbow)
The feisty Rainbow Trout (Oncorhynchus mykiss) is eager to take a multitude of presentations in the Sacramento River year round. It's a great way to spend a day, an afternoon or an evening with your family or friends. We can customize an outdoor adventure on the Sacramento River to fulfill your expectations. We have special rates for full and 1/2 day spin fishing trout trips on the Sacramento between Redding and Red Bluff. Give us a call we can let you know how the river is fishing and get you scheduled to enjoy this amazing fishery that runs through the heart of Shasta County.
More Information on Sacramento River Rainbow Trout Fishing with SC2 Outdoors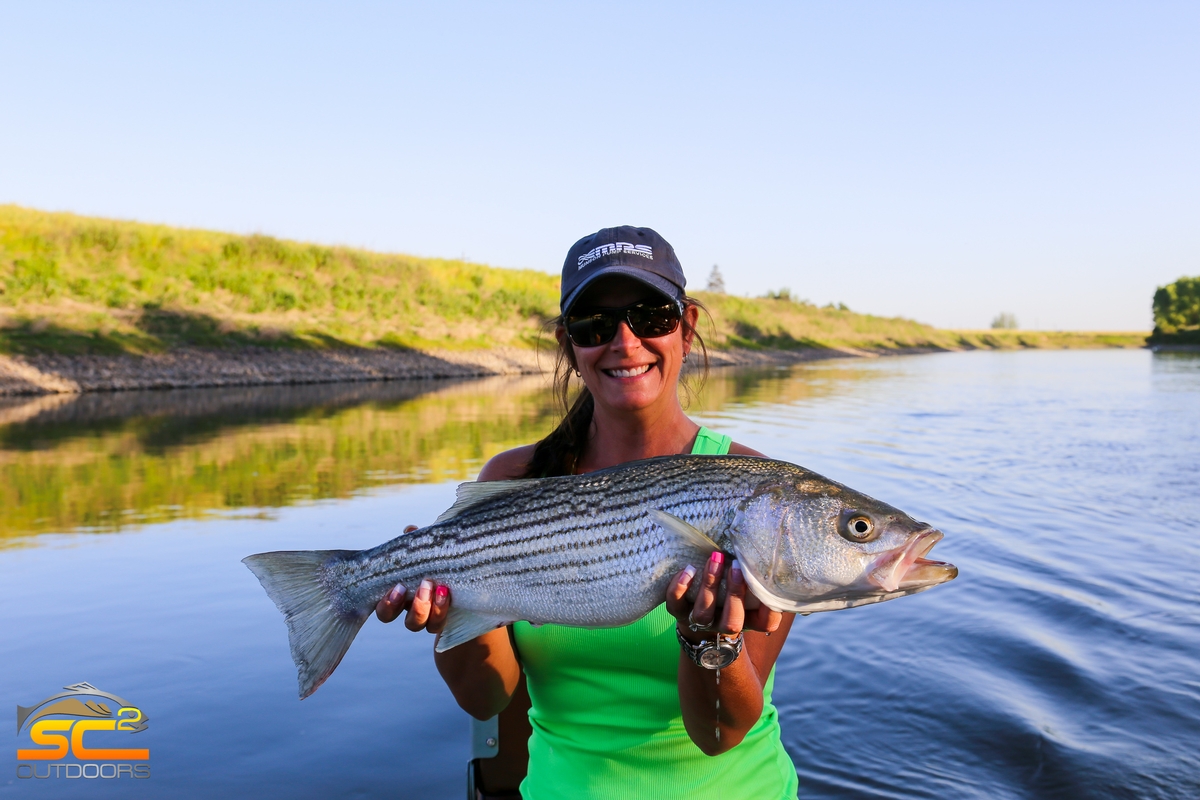 Striped Bass Fishing
The Striped Bass (Morone saxatilis) or more commonly known as "Striper", is equally desired for its tenacious fight and it is for its firm, flavorful, large flake meat. In the Sacramento River Basin, there is no finer fish to put on the table for your family. Stripers are a formidable fish to find and fight. Although you can find a Striper lurking in the river throughout the year, most of your fish will be caught south of Colusa, CA from March through May on a normal year, when the anadromous fish moves up river to spawn. Make no mistake this is an aggressive predatory fish, which can produce fast and furious action. Book your next Striper fishing trip with SC2 Outdoors.
More Information on Striper Fishing in California with SC2 Outdoors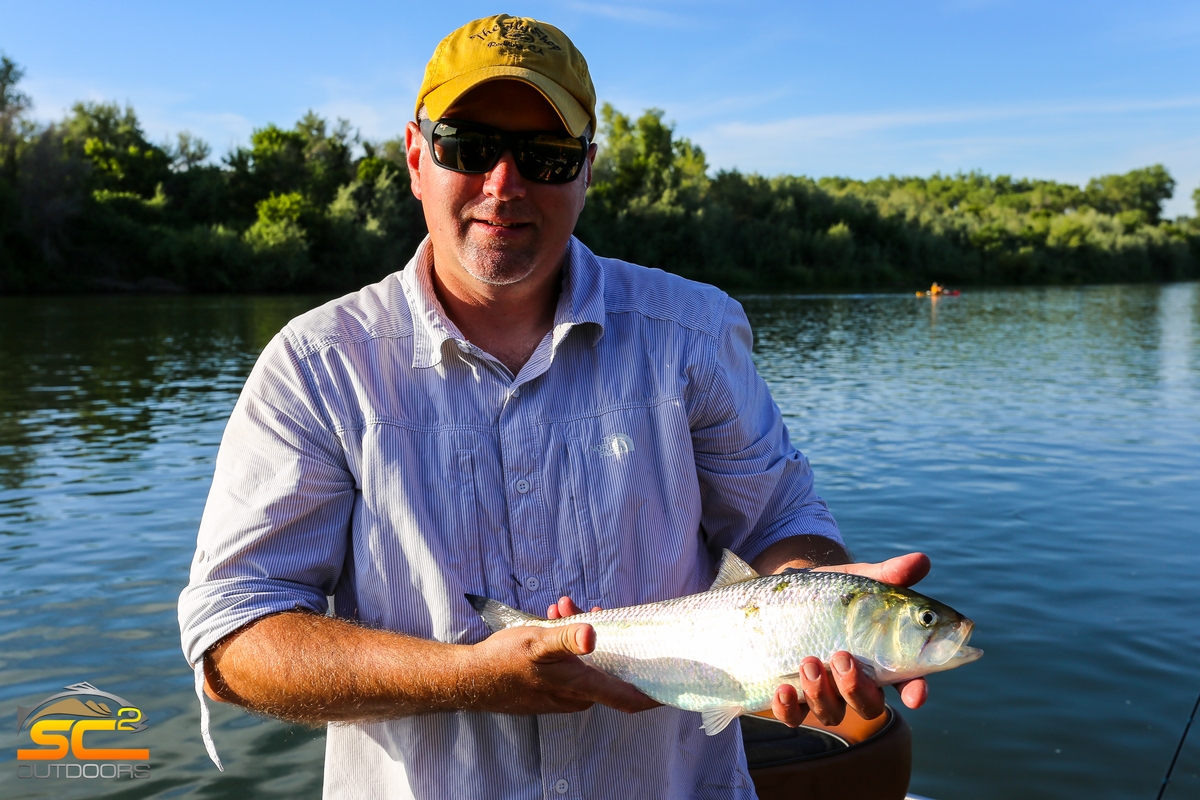 American Shad Fishing
Our favorite light tackle fish hands down is the American Shad (Alosa sapidissima). Shad are the epitome of physics, take the number fish you can catch per rod in a day or an evening multiply it by their physical weight (2-4 lbs.) on average and quantify it by the force they produce during their fight in the slightest of current and it all equates to an impressive fishing adventure. May to July on any given year it's a great way to introduce anyone to fishing. We love to Shad fish. Get your "RED HOT" shad dates, with no hassle cancellation and short notice specials when the fish show up.
More Information on Sacramento River American Shad Fishing with SC2 Outdoors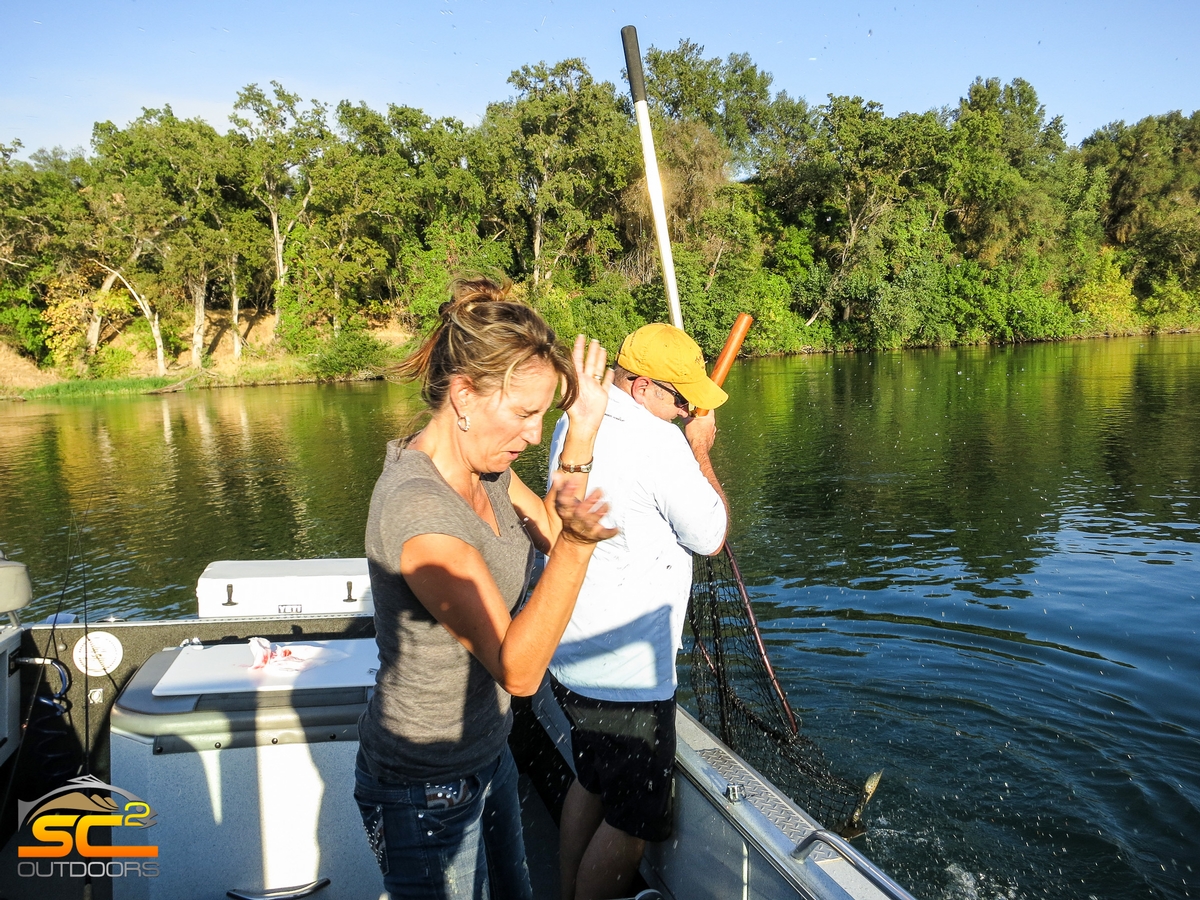 Fishing with SC2 Outdoors
When you arrive to fish with us we will do everything possible to make you comfortable and safe, we will go over the techniques we will use that day for our targeted species. Our goal that day will be to have fun and put some fish in the net, we hope to have several "grip and grin" sessions along the way. Since we never mix groups you will know everyone on the boat and we will conduct ourselves in a professional and courteous manner "this is your trip", our job is to make it memorable. We are happy to answer any questions, we will guide, assist and help you throughout your fishing adventure. When it is over and you leave the boat, we know we'll have done our job if you are leaving with the feeling you just spent a day fishing with friends.
SC2 Outdoors Will Provide:
Quality Equipment (Rods & Reels)
All Tackle
All Bait
Yeti (Bottled Water)
US Coast Guard Safety Equipment (Life Jackets)
Fish Processing
You Need To Bring:
Fishing License
Sunscreen
Sunglasses
Hat
Sweatshirt
Snacks (We have a spare Yeti)
Beverages (Other Than Water)
Camera / Phone
Great Attitude
Ice Chest (In your car, for your catch)
The SC2 Outdoors California River Fishing Gallery
River Fishing (Sacramento & Trinity Rivers) Gallery