Rickert Ranch, LLC | Shasta County, California
The Rickert Ranch, LLC at 5,081 acres is a vital part of the Cow Creek watershed that feeds the Sacramento River Valley. This family owned and operated property is a working cattle ranch and a hidden paradise just minutes away from Interstate 5 and Redding, California. It has been protected and preserved since the family acquired it in the 1950's. We are extremely proud the family has chosen and entrusted SC2 Outdoors with the hunting and wildlife management program.
The Rickert Ranch, LLC contains incredible biodiversity. The ranch is covered in oak savanna, vernal pools, plains and pines. One year-round creek and three seasonal creeks traverse the ranch providing roughly 8.5 miles of riparian and aquatic habitat. Historical water rights provide ample water for a several hundred acres of irrigated pasture.
SC2 Outdoors and the Rickert family are committed to making the Rickert Ranch, LLC an extraordinary California hunting destination. Through proper wildlife management, limited hunting opportunities and controlled harvest, the Rickert Ranch, LLC will be producing trophy quality animals and memorable hunting adventures for our current and future clients.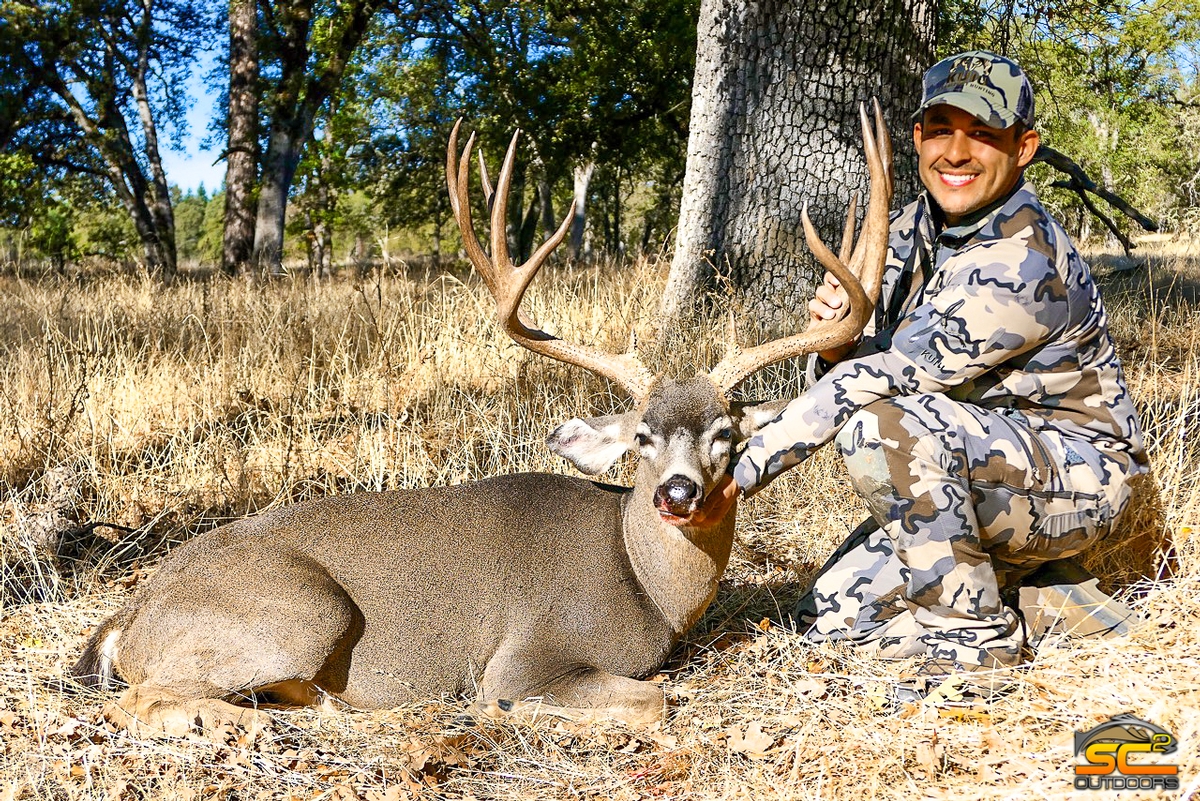 2017 Northern California Trophy Blacktail Chris L
Blacktail Deer Hunting
The Rickert Ranch is historically known for great blacktail buck hunting. The ranch has the potential for giant local or valley bucks, but with the coming of October the ranch receives an influx of migratory blacktail deer to the oak foothills for the fall rut. The ranch provides vital winter range for these migratory blacktail deer. The genetics are here, we are conservatively managing the Rickert Ranch, LLC so that these deer can get to an age class and reach their true potential. Our goal is to consistently produce "Trophy Blacktail Bucks" for our clients who hunt the Rickert Ranch. The ranch is located in California Department of Fish and Wildlife Deer Management Zone C3.
We currently have a portion of the ranch that is available for General Deer Season approximately 800 acres. The remainder of the ranch in enrolled in the Private Lands Management or "PLM Program" with CDFW.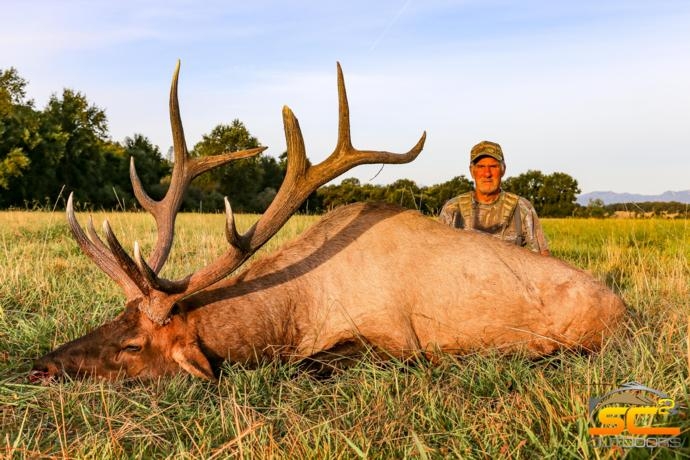 Northeastern CA Bull Zone 305 State Draw Tag | Rob P. 348
Rocky Mountain Elk Hunting
The Rickert Ranch has a resident herd of approximately 120 elk. These elk are descendants of the original transplant made by railcar. While the ranch supports a year round herd of cow, calves and young bulls, the older age class Rocky Mountain Bulls begin to move heavily onto the ranch at the end of August for the fall rut. The genetics and age class of the bulls that roam this ranch is more than impressive. This ranch is located within the current boundaries of Northeastern Rocky Mountain Elk Hunt Zone established by the California Department of Fish & Wildlife. We will offer very limited General, Apprentice and Archery Only Hunts. Currently all tags are issued through the California Big Game Draw under Hunt Codes 304, 305, 409 and 411. This ranch has true potential to produce 380"+ bulls.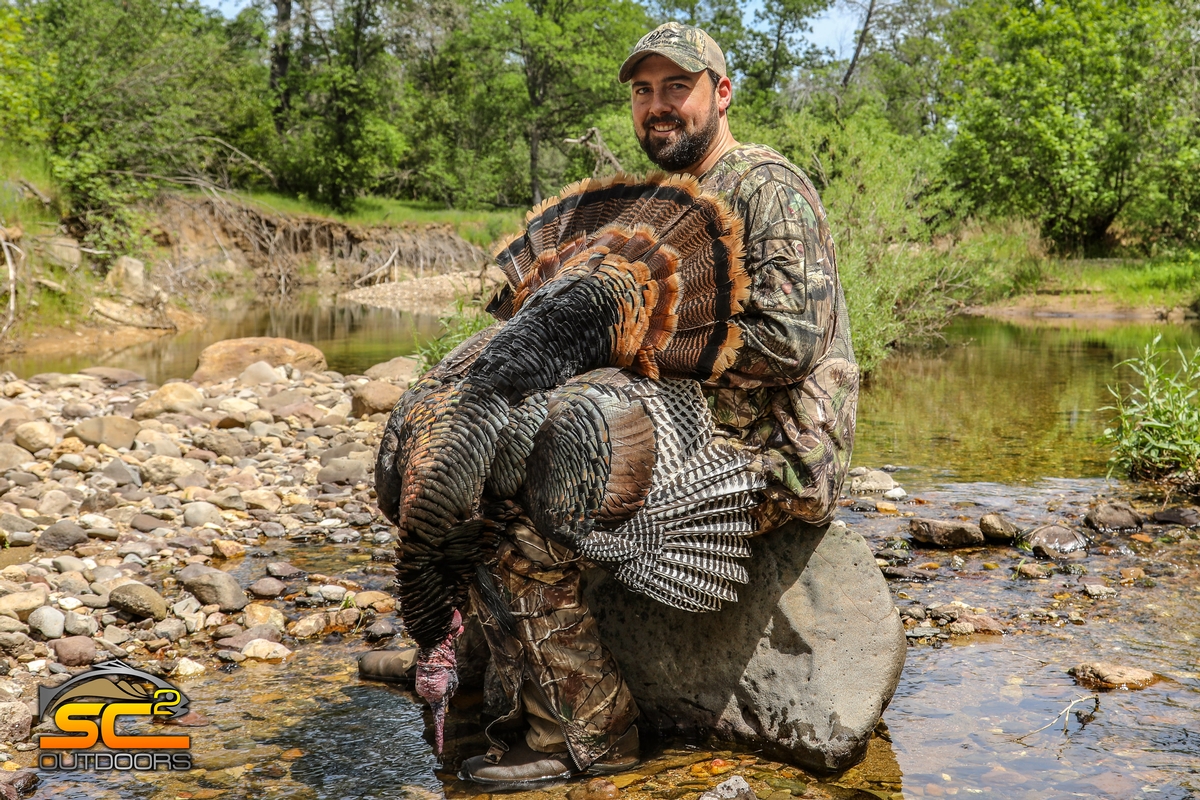 SC2 Outdoors Wild Turkey Rickert Ranch
Wild Turkey Hunting
The Rickert Ranch is excellent California habitat for Wild Turkey. The turkey population is currently stable to increasing. Several huge winter roosts are present on the ranch. During the spring break up the turkeys spread across the ranch making for great hunting opportunities. We offer 8 turkey hunts during the spring for mature toms only, we have a no Jake take policy. We are all about quality spring turkey hunting.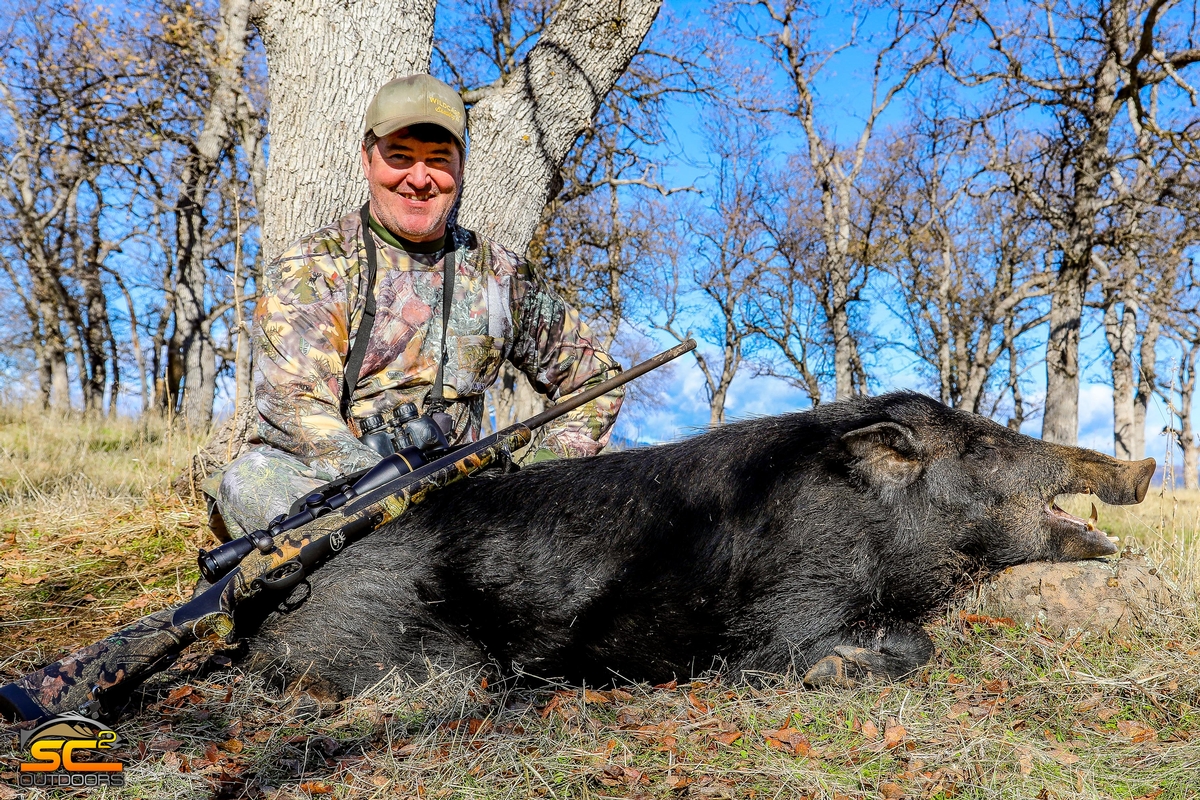 John B December 2017 Rifle California Wild Boar
Wild Pig Hunting
The Rickert Ranch has a growing population of wild pigs. The ranch's abundance of water, year-round and seasonal creeks, ponds and springs keep the hogs present on the ranch throughout the year. If you're looking for a great potential to harvest a wild pig with a rifle or a bow this ranch is a consistent producer. We manage our pig hunting so that our clients are not hunting pressured wild pigs.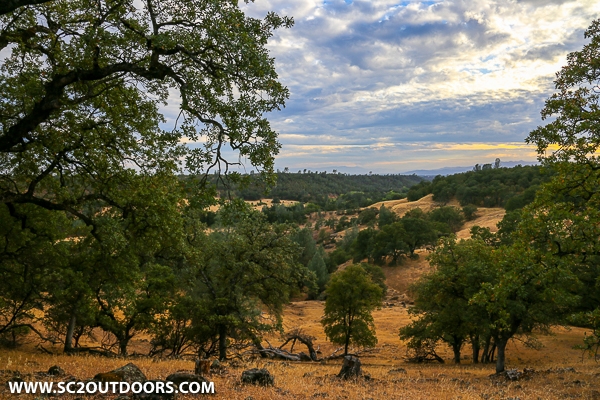 Limited Hunts | Book Early
The Rickert Ranch, LLC is one of our premier ranches and is conservatively managed for a rewarding outdoor adventure. Our management philosophy is simple, provide the habitat for maximum carrying capacity and do selective harvest for trophy potential. We limit our hunts so that our clients have a great hunting experience.
Give us a call or drop us an email if you are interested in hunting this premier ranch. We are currently booking blacktail deer, Rocky Mountain Elk, spring wild turkey, wild pig, dove, duck, predator and bear hunts on the Rickert Ranch.
Rickert Ranch an SC2 Outdoors Wildlife Managed Ranch
Rickert Ranch - Shasta County, California Gallery