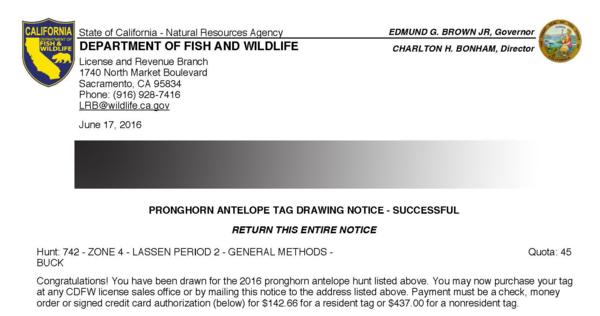 California Big Game Draw Results – Have You Drawn?
The California Department of Fish and Wildlife conducted the 2016 Big Game Draw on Tuesday, June 14th and most of our phones were getting pounded with texts. I know that while I rapidly refreshed my screen waiting for pending results to be completed I was getting emoji's of various sorts. However, for some of you whom can careless to be a "techy", the snail mail notifications began to arrive on Friday, June 17th.
In 2016 we have so far been unsucessful drawing a tag in our annual non-resident states. We completed our resident applications for California with reseved hopes. The California Big Game Draw system as most of you know is heavily weighted for those with max preference points, which neither of us have in all species. This doesn't mean that you can't draw, it just means it's more like a playing the lottery.
If you were lucky enough to draw a Northeastern California Elk Tag, Congratulations!!! Any of the Northeastern CA Hunt codes 304, 305, 409 or 411 is a great tag to have. We have limited openings for this fall. It's going to be a great season. The wet winter and spring rains will have bucks and bulls packing on mass and length throughout Northern California.
If you have drawn a C Zone Tag, we have 2 openings left for 2016 on a private ranch we are managing for trophy bucks and expect to produce great black-tail bucks.
While we didn't hit the California Big Game lottery, we have heard from a few that have received the coveted "Successful Notice" either on the screen or now by letter. We have been busy talking to some of those lucky hunters and we are quickly putting together our 2016 fall schedule. We want to insure a quality experience for our clients whom book a hunt with SC2 Outdoors.
We have 2 Lassen Pronghorn Antelope hunters hunting with SC2 Outdoors, one hunter is for Period 1 and the other is for Period 2. They both had max points going into the 2016 draw. We will be scouring the high desert country for bucks with B&C potential.
Wherever you find yourself enjoying the great outdoors this fall, we wish you the best. While we don't have any 2016 tags ourselves, we will be working hard, doing what we love with our clients, friends and family.
Congratulations and make the most of your 2016 season, you may just have a once-in-a-lifetime tag in your pocket.
Posted in: California Rocky Mountain Elk Hunting, News, California Pronghorn Hunting, California Deer Hunting