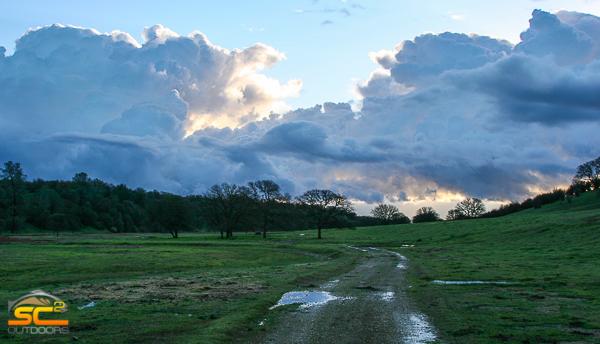 A CALENDAR NEW YEAR
By definition 2016 is upon us, however I don't really have that New Year feeling yet. It's the end of January and we are still by calendar in the middle of winter and it's cold, wet and lovely dreary. The fabled El' Nino is delivering the much needed rain and more importantly snowpack here in Northern California. For me, it is with the deliverance of spring comes the that New Year feeling.
NATURES NEW YEAR
I would speculate that we are stacking up to have a magnificent California Spring. It is going to be beautiful in Northern California this year that is without a doubt. It's that smell of green grass, moisten earth, budding trees, song birds, spring gobblers, frogs and fresh growing wild flowers when you know mother earth is coming back to life for a New Year. It's calves, fawns, ducks on nests in every little pothole of water or seasonal creek. It's just a new cycle of life after winter that tells me we are into Natuers New Year.
A SPRING WILD TURKEY HUNT
There is nothing like the transitional phase when winters is still trying to hang on and spring is trying to break loose. I especially love those mid-April evenings when the warm air of the afternoon lifts and the coolness of evening drops in, frogs and crickets serenading you on your walk back to your pick up from a roosted gobbler, for the next mornings hunt.
LARGEMOUTHS, SPOTS OR STRIPERS - TAKE YOUR PICK
Or when it's pitch black and your headed either north or south along I5 with the boat hooked up and a Yeti full of drinks and lunch, anticipating a great day on the water. Throwing spinner baits for largemouth, plastics for Spots, or power drifting minnows for Stripers everyone is loaded up with sweatshirts and shorts, because we know it's going to hit mid 70's today.
SPRING HOG HUNTING
Or you are just dumping the ranger out to go glass up some hogs, it is the perfect hunt with your weapon of choice. We are several months removed from last year's deer seasons and a several before the next. It doesn't matter if your after a giant tusker or a fat dry sow, it's an opportunity to be big game hunting in the spring.
GET OUT ENJOY - IT'S A REMARKABLE SEASON
Most importantly it is a great time to be outdoors with family, friends and clients. There is no better time of the year to introduce people to the numerous outdoor activities we have in Nothern California.
Make a Spring Memory
Posted in: California Spring Wild Turkey Hunting