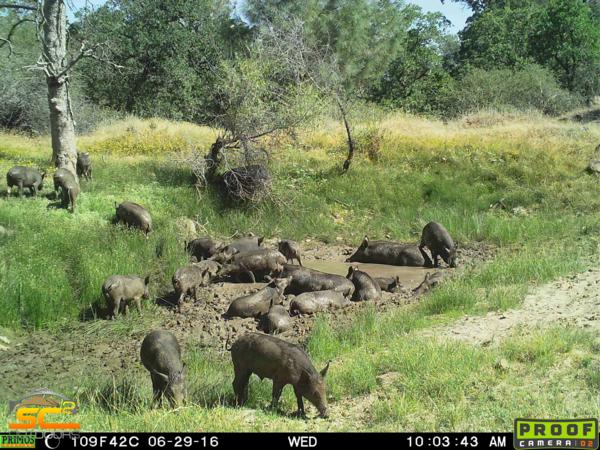 Late Fall and Winter Hog Hunts
I know if your like us it's all about the early fall. We are intensely focused on our upcoming hunts and fishing schedule. We are dedicating all our time to our clients whom have drawn that coveted fall tag whether it's for Antelope, Deer or Elk or whom have booked for the legendary run of King Salmon up the Sacramento River. However, we also know how fast time fly's by and so we are taking reservations and booking up our late fall and winter, which means wild hog hunting and winter run kings. We also have to plan for our wildlife land management and habitat improvements.
We would recommend getting on the calendar now for your winter hog hunt, now before it is too late. We are about quality game management and each month we only have limited availability for our hog hunts, so don't miss this opportunity.
Archery Hunting
While we offer archery hunting at any time on all three of the ranches we operate for hogs. We have one particular ranch where we will be exclusively offering archery only hunts between November 1st and December 11th, 2016. It should make for spectacular hunting.
Rifle Hunting
It's just plain ol' fun hunting hogs with a rifle. As much as they are touted to be the perfect animal for a the "Stick and String", it's every bit as exciting sending high velocity projectiles at them, lead free of course. Range It, Rack It, Dial It Up and Let'r Fly.
Broadhead or Bullet
That's up to you. it's your choice. Our job is to properly manage all aspects of your hunt and put you on the wild boar (Sus scrofa). Your job is to have fun and make the shot to put that pure "Organic Pork" in your freezer.
Spot & Stalk Hog Hunting
On the ranches we operate we only do spot and stalk hunting. We don't run dogs, while we have nothing against our fellow houndsmen, my father in-law was one of the best, we just operate without dogs. Not that a valued hog dog wouldn't be a gift from above from time to time.
Book Your Hunt without Worries
We are in the business to hunt them, so we are fully aware when the water hits the ground like this past winter hogs can become extremely nomadic. Book with confidence, we provide a "no hassle" change of date policy. You will always have the opportunity to hunt your booked dates. As a courtesy to our clients, if we feel the hunt will not live up to our expectations for any reason, we will notify you immediately to give you the opportunity to change your dates.
Our success depends on your success. While we don't define sucess based on a guaranteed harvest, it is dependant on us representing and producing a hunt that gives you a real opportunity at harvesting a hog and your satisfaction in our performance.
Give Us A Call
When you have the time give us a call. We'd like you to put together a hunt package for you. We can tailor a hunt for any experience level or physical ability, you'll enjoy hunting hogs in Northern California with SC2 Outdoors.
Posted in: Wild Hog Hunting - California