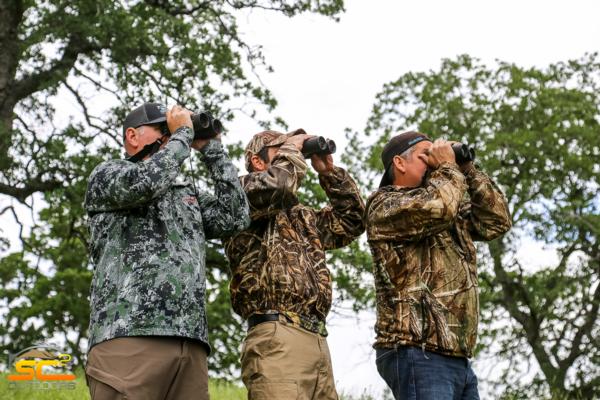 It's On - A NorCal Hog Hunt
This was to be Jim's first big game hunt and the first time shooting a rifle in over 20 years. While Jim is an avid fly fisherman and excellent water fowler, he had yet to pursue any big game animals. Nervous never, anxious without a doubt. One of Jim's best friends Brad was going to accompany him on the hunt. Shelley & I were excited to be a part of the experience and join in their success.

Top Priorities - The Important Things First
The hunt was from a local community fund raising event and it was a scheduled 2 day hog hunt, real life priorities required it to be reduced to 1 ½ days. No problem, Jim had to first attend a much more important engagement on Friday evening with a little Father/Daughter dance, so we delayed our start time to Saturday afternoon. While Brad had come into town early, he took advantage of his free time by spending a few days on the Sacramento River for a little flea flicking for our world class rainbow trout.
The Hunt
It was time to get these SoCal boys on the ranch and in search of some NorCal wild swine. Of course, they thought I said wine and had their scotch glasses out but that would have to wait until the hogs were hanging. The ranch was beyond beautiful, cattle grazing and the green grass was still 2-foot-tall, no way they are going to eat it all before it dries out from wind and heat. The tall grass wouldn't make it easy to spot hogs but we couldn't be more appreciative to have access to this ranch for the hunt.
Jim was top priority, getting him behind the scope and on a hog was not our only our goal but Brad's as well. He had fully elected to defer until Jim had his hog down. It didn't take him long; we had been hunting a couple of hours before the first group of hogs was spotted. Several sows, some dry and some with piglets and our only target was a 160-pound boar hanging around the group.
We closed the distance and walked through the shot both physically and mentally as we isolated the boar. It was 288 yards, no drop shot by any means but Jim was undaunted by task at hand. "Squirrel???"…. Oh yeah, back to this boar we need to get down. Love it!!!! A solid rest, broadside, squeeze the trigger, the report and just like that Jim is officially a big game hunter. Crazy how excited everyone was; it couldn't have worked out any better. It was awesome.
We took our pictures had some refreshments and had about 2 hours of day light left to get Brad his hog otherwise we'd be back at it in the morning.
You're Up Brad
We were headed for another section of the ranch when we came across a group of hogs with 1 wet sow and several piglets, 1 clearly pregnant sow and 2 150 pound dry sows. Brad and I made a stock but the 2 dry sows escaped our best efforts. We loaded up and continued on our way when we came across a big lone pig.
We shuffled about and got into position and I called out the range, at 354 yards Brad put in a great shot. Tough are these hogs and it took us a follow up shot but Brad was able to take care of business and just like that we had both their hogs loaded and headed for headquarters.
The Best Kind of Guys
While Shelley & I accompanied Jim & Brad on their hunt, it was easy to see why these guys are such good friends and have remained friends over the years. Like us most of their stories and fondest memories revolved around the great outdoors, fishing, hunting and spending time with their loved ones.
We followed up Sunday with spending a no pressure afternoon on the water, trout fishing and enjoying their company. We look forward to being in the woods or on the water with Brad and Jim many more times in the future.
Great hunt guys!!!!
Posted in: Wild Hog Hunting - California