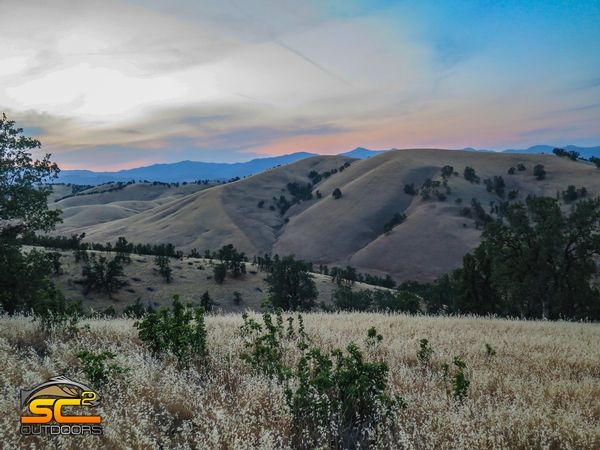 Beating the Heat for Hogs
We were fortunate enough to have an opportunity to do a wild pig hunt this last week for a couple of retired gentleman from the California Department of Fish and Game, now known as the California Department of Fish and Wildlife. When the hunt was put together back in early May, we knew at the time that June can drop some heat on us here in Northern California, the plan was to keep an eye on it and the wild pigs and if everything worked out we'd hope to stack the deck in our favor.
When the hunt arrived mother was somewhat kind to us for June, we'd only be battling temperatures in the low 90's over the next couple days and not triple digits. Our plan was hunt early and hunt late and take a break in the middle of the day. Even with travel time and a couple hour break, we'd still be putting in 8-10 hours of hunting each of the days.
Day One - Tuesday, June 5th
I picked up John and Brian at their hotel in Redding at 4:00 a.m. and we headed to the ranch, they had chosen to get up at 3:00 a.m. and grab some breakfast at Denny's while I opted for an extra half hour of sleep. We arrived at the ranch at about 5:00 a.m. and after our gear was loaded we headed out the dusty road about 5:40 a.m., just perfect to get to a location to glass. It wasn't long before a lone boar was spotted but he had no intention of letting us play the game with him, and he quickly climbed and crossed a ridge line heading north.
As we eased into our glassing position, we located approximately 20 adult hogs feeding on a high peak, a place we had previously spotted them before while scouting. The group held several smaller boars, numerous sows and countless piglets moving about the tall grass. It was about 6:10 a.m. and we opted grab our gear and make the 500 foot descent from our ridge across the valley and ascend the 600 feet on the opposing ridge. As luck would have it 50 minutes later we had snuck within 50 yards of two unsuspecting wild pigs, concentrating on the wild onions they were feeding on. We were not able to get around these two without spooking them so Brian elected to take the hog standing in front of us. At the report of the shot John and I quickly advanced to see pigs quickly collecting in the little valley, while they were still only 100 yards gathering up, the difficult part was communicating which hog for him to shoot. It was a collection of boars, sows and piglets all scurrying about and the last thing we wanted to do was shoot a pregnant sow or a mama with piglets. Unable to clearly identify a shooter pig we watched as the worked their way down into a heavy cover draw for safety.
Shelley was able to join us on on the evening hunt and we around 6:00 p.m., we watched as 3 sows and several piglets took advantage of a quite pond and soaked in the water and mud, probably feeling reenergized after a long hot day. As we moved from vantage point to vantage point we finally located a descent group of wild pigs in the bottoms below us. As luck would have it about the time we started our stalk the lead pig decided there was a place they needed to be instead. It went like this, I'd range them at about 350 yards, we'd move forward as fast as we could anywhere from 100-200 yards and range them again and they'd be 350 yards. It went like that until they got into a really thick draw that offered no shot opportunity. Darkness fell as a beautiful sunset disappeared over the ridge towards Trinity County.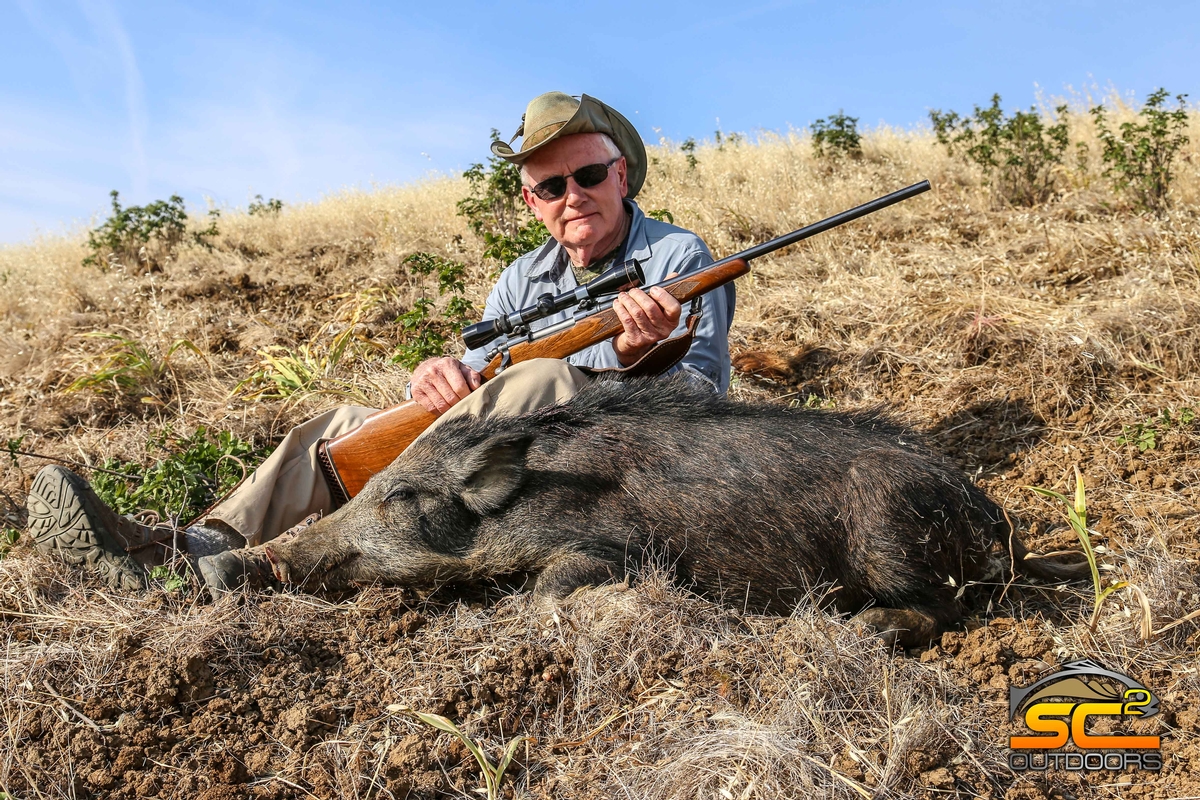 Day Two - Wednesday, June 6th
As I pulled into the parking lot of John and Brians hotel again at 4:00 a.m., it was much of the same we were all excited about the day ahead of us, but make no mistake the 19 hour day prior had us a little wearier and moving slightly slower. We located a group of hogs right away at our first glassing position and with no cloud cover and them on an exposed ridge we figured the morning would heat up quickly and drive them into the cover earlier than the previous day. We quickly dropped down and got our gear together of another long stalk. We had some decent thermals this morning with the rising sun so we didn't think wind would be an issue. However as we reached the saddles the wind directions varied and became problematic. As we moved in the last 100 yards, John dropped his pack and we were now in full stalk mode, but when we arrived the pigs were gone. I'm not sure if it was the wind or they had just moved out of the morning sun but gave us the slip they did.
We headed to the far eastern boundary of the ranch to replace a trail camera and check a mud hole the big boars had been using. It was now about 10:00 a.m. and heating up, we had elected to head back in and come back out in the late afternoon. On our track back we just happen to spot a group of 12 mature hogs with no piglets. We were able to get to 188 yards, unfortunately our the shot was high over the boars back and the group quickly put to much distance in between us for a follow up.
Once again, Shelley was able to make it for the afternoon so the four of us departed the ranch headquarters about 6:00 p.m. The evening was perfect and while the temperature was hovering around the 85 degrees we had about a 10 mph wind that made the evening extremely comfortable. We located the group of pigs that had eluded us the evening before, and was able to stalk to 312 yards as they grazed across and open face. The wind afforded us plenty of time and concealment to get our breathing rate down, calm our heart rate and ready for the shot. At the rifles report I once again witnessed an off the mark shot and only dirt and debris fly through my binoculars. We went to the location to confirm our suspicions and had started our descent off the face, when I spotted the group working their way across the valley below. After just a few minutes we were able to get into position at less than 100 yards and complete John's pig hunt with less the 15 minutes of legal shooting light available. After a short photo shoot, we headed down to meet Shelley and Brian who had brought the Ranger down to meet us in the darkness.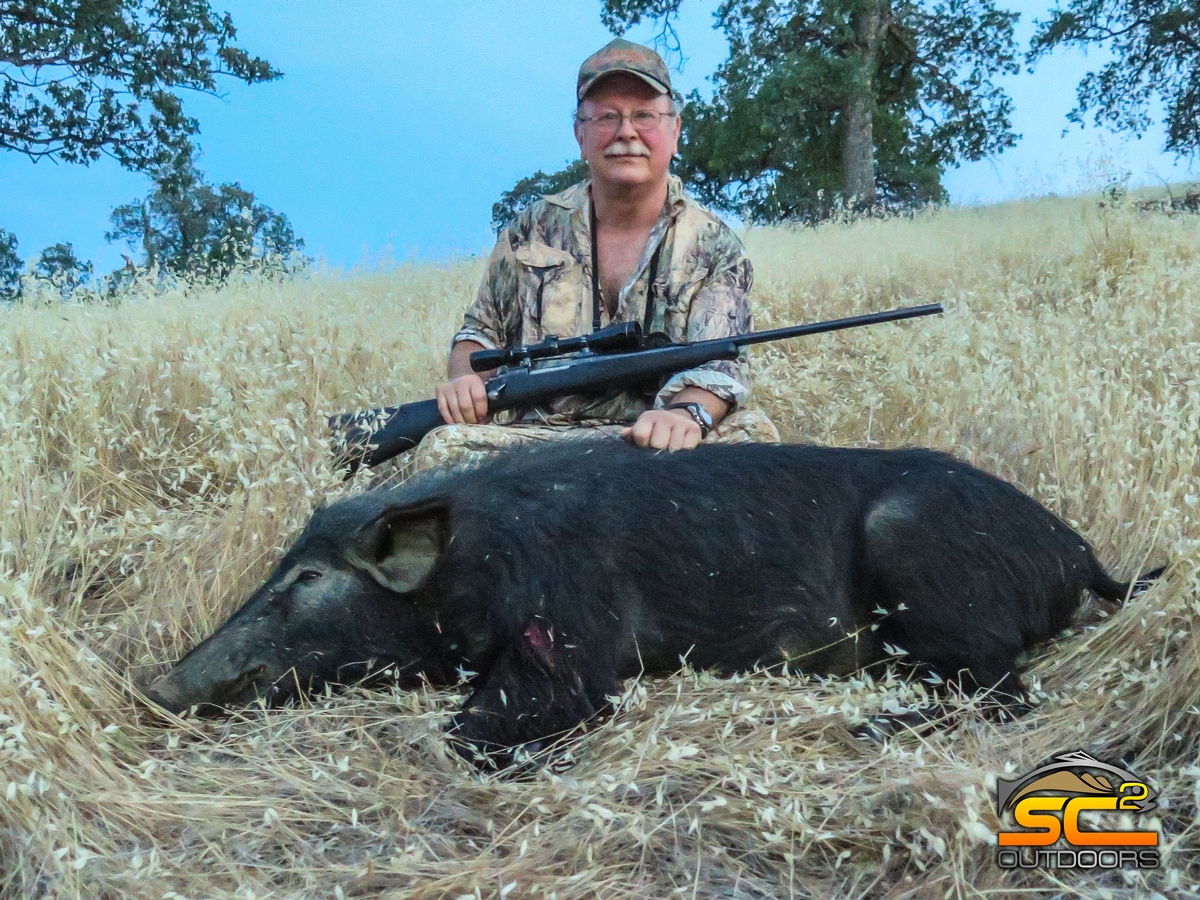 In the Books
Shelley and I climbed into bed at about 1:00 a.m. on Thursday morning, we had just completed another successful hunt. Sometimes we get lucky and all our groundwork pays off, some hunts are short others are long but all are rewarding. We are very thankful to our clients and their outdoor adventures we are fortunate to enjoy with them. While we always strive for 100% harvest success rate we know that this is an unobtainable expectation, we do always want to provide our clients with 110% effort, rest assured we can do that. If your looking for a great outdoor adventure whether it be hunting, fishing or photography please give us a call. We wish all of you health, happiness and success wherever your adventures take you.
Posted in: Wild Hog Hunting - California